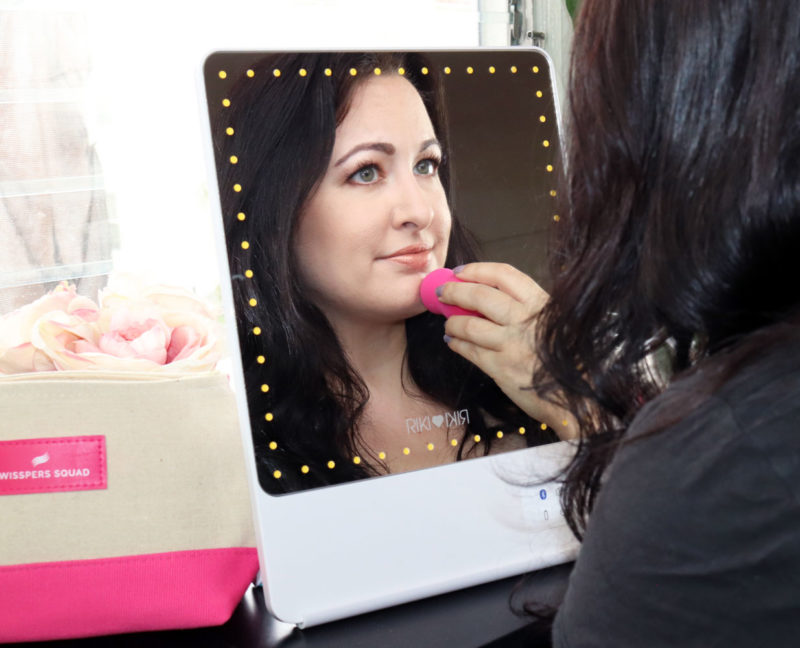 Swisspers: Top Shelf Cruelty Free Cotton Products
If you're over the age of 25, you probably have a signature drink. No more headache-inducing well drinks for you – you only want top shelf vodka baby! Am I right? And you may not want to admit it, but you probably have a specific type of laundry detergent, dish soap, and even toilet paper. Don't laugh – you know it's true! You're of the age where you know what you want!
The older I get, the more I know EXACTLY what I want. I still enjoy trying new products, but there are some things that I KNOW work well for me, and after trying others that don't meet my expectations, I would rather keep buying what works!
Cotton products are one area where I have learned to stop compromising. I use cotton pads with micellar water to clean my face in the morning and remove makeup at night. I've tried cheap-o brands that fall apart immediately, and quite frankly – ain't nobody got time for that!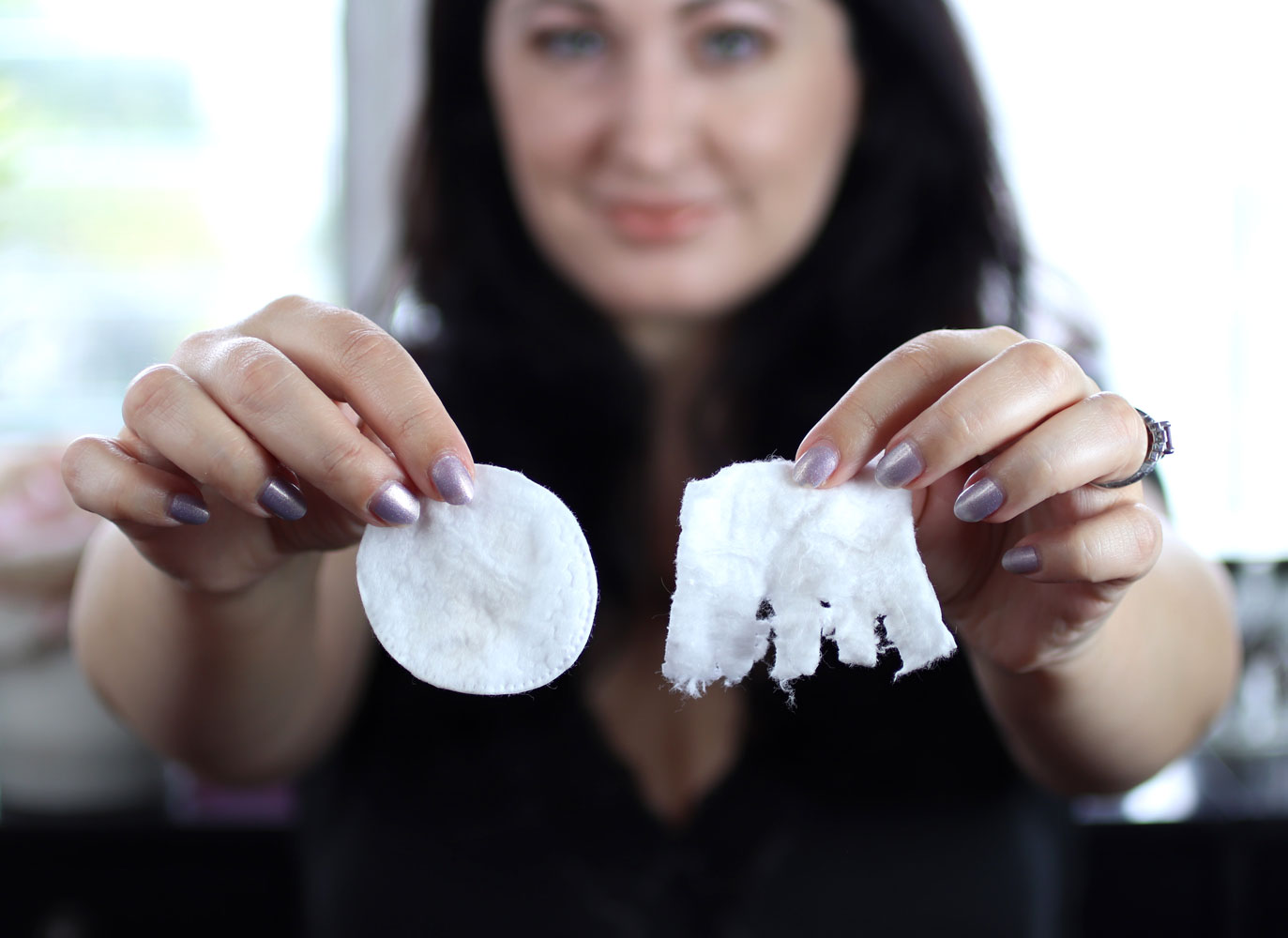 When I discovered Swisspers cotton products, I knew I had found "my brand." They are a cruelty free brand that makes premium cotton rounds, cotton balls, makeup remover wipes, cotton swabs, and makeup applicators. I did a little test with the Swisspers cotton rounds versus the brand my husband bought me previously, and the results were obvious. The other brand fell apart after only a few swipes with toner on my face. The Swisspers cotton round stayed together until I decided I was done!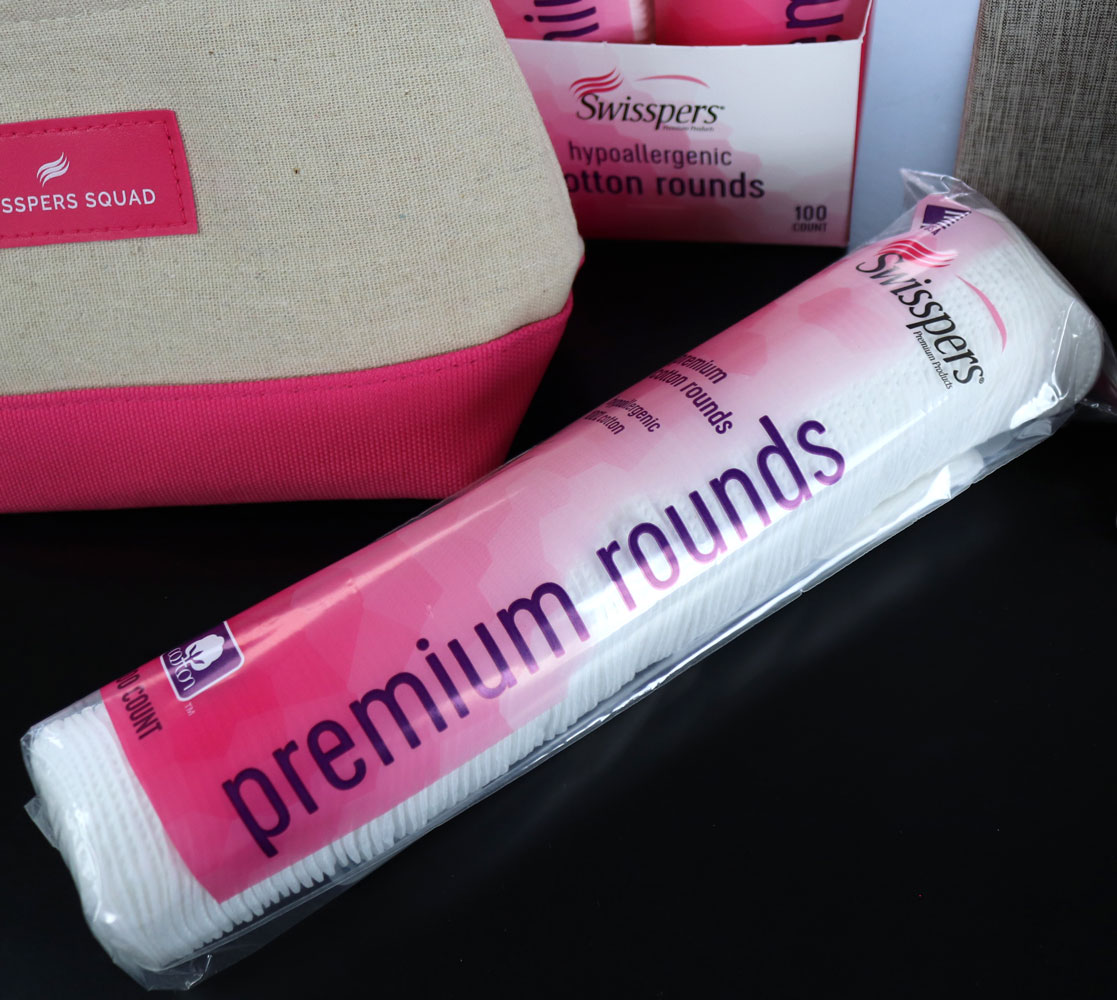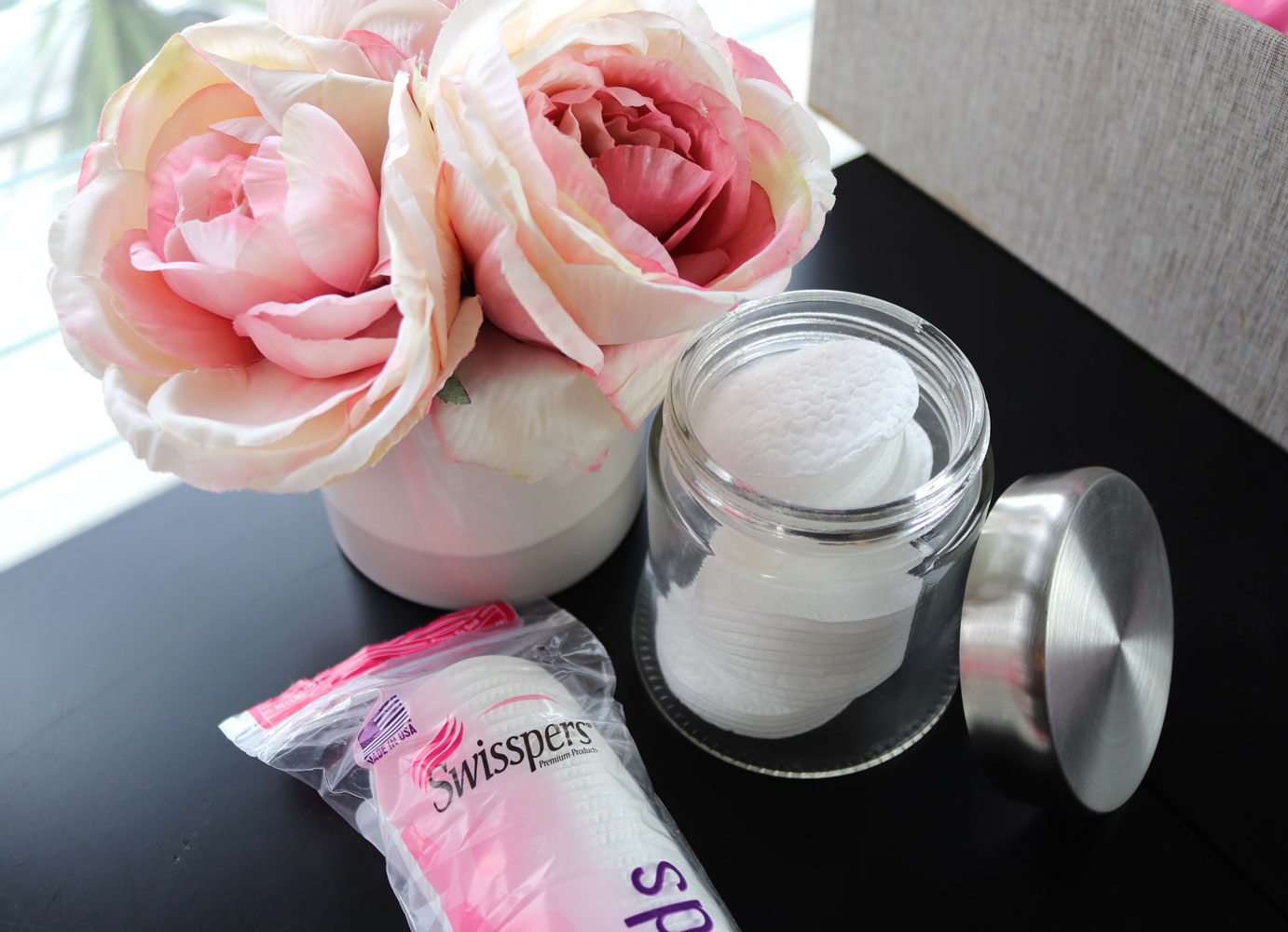 Premium Cotton Rounds: Swisspers dual-sided Premium Cotton Rounds have a proprietary multi-layer design that creates a soft, yet strong lint-free cotton round. These are my favorites and I use them morning and night. There is also an exfoliating variety, if you like a little more oomph.
100% cotton
Hypoallergenic
Patented stitch edge technology
Feature two distinct sides
Embossed is for gentle cleansing
The smooth side is for applying lotion and astringents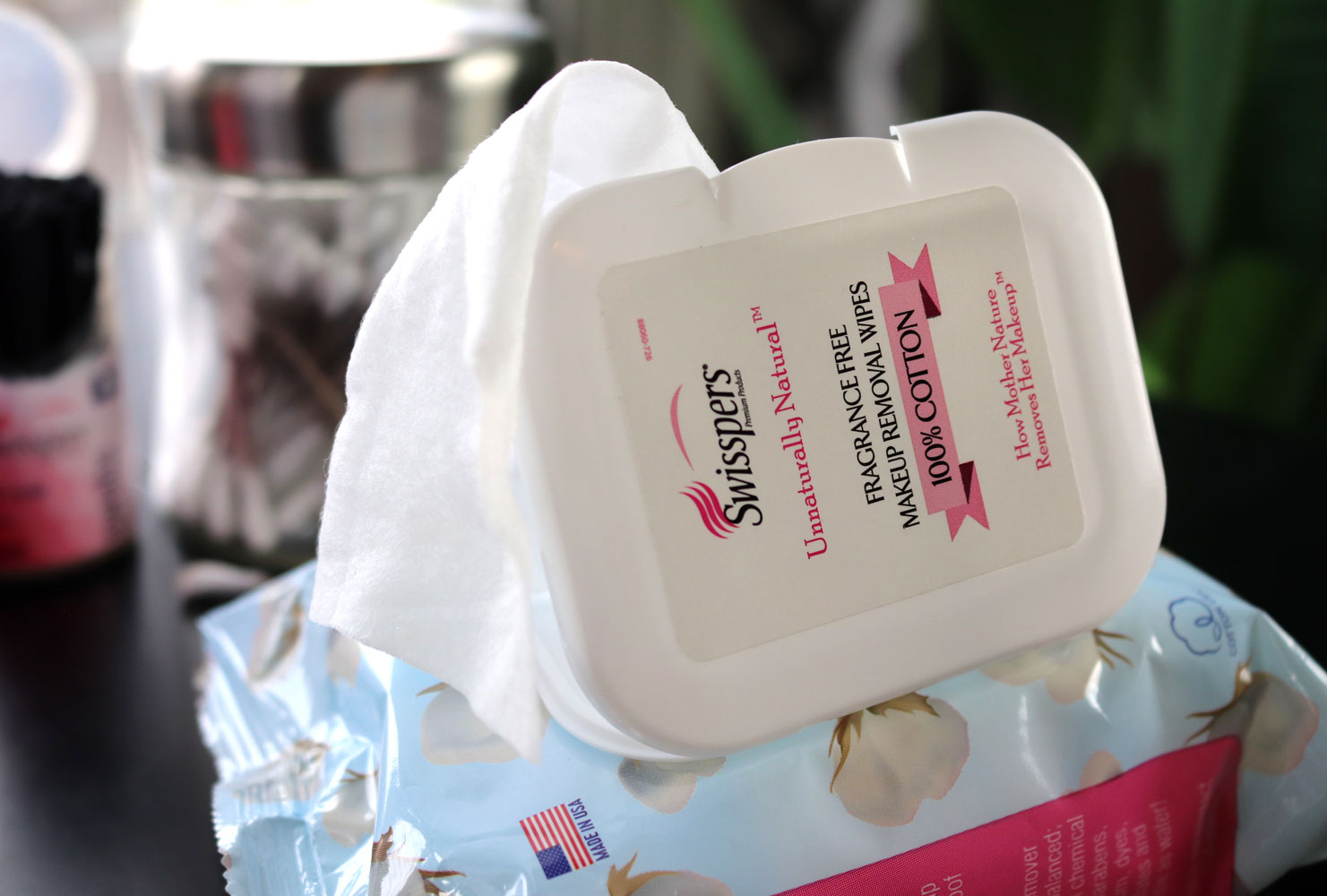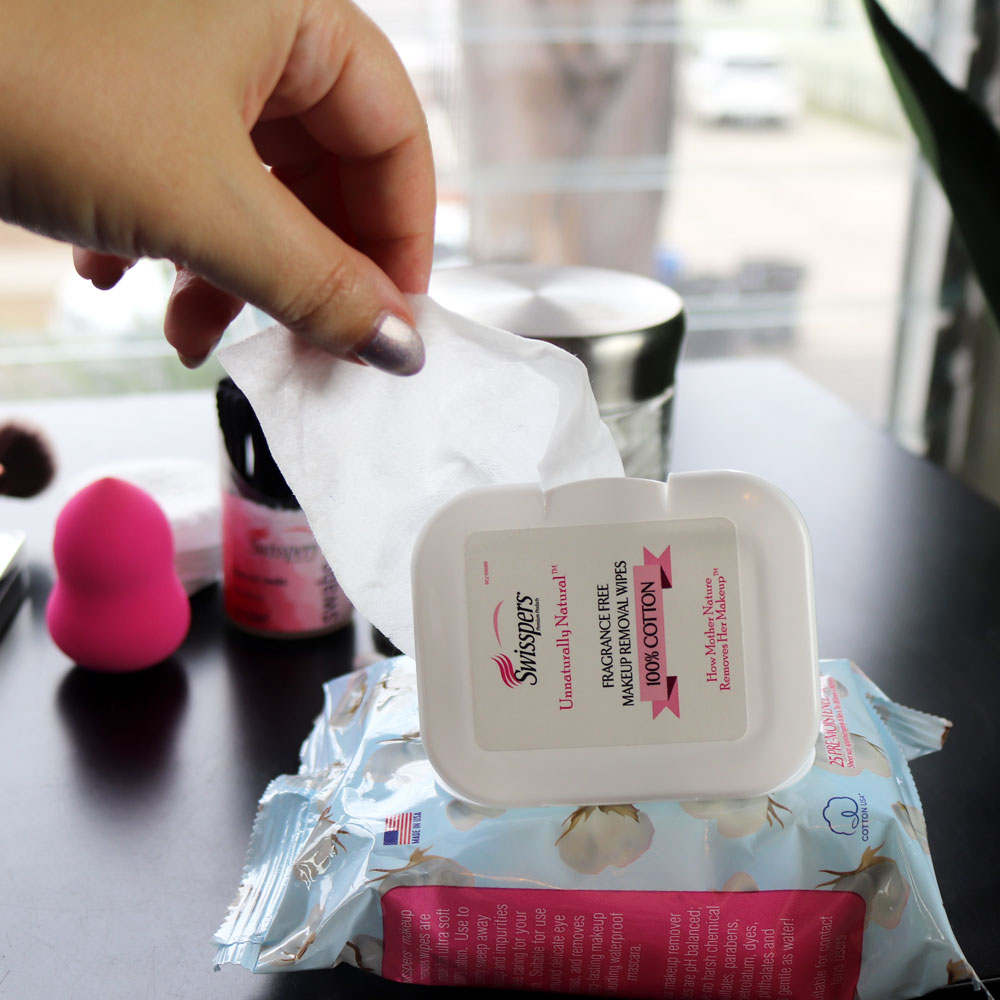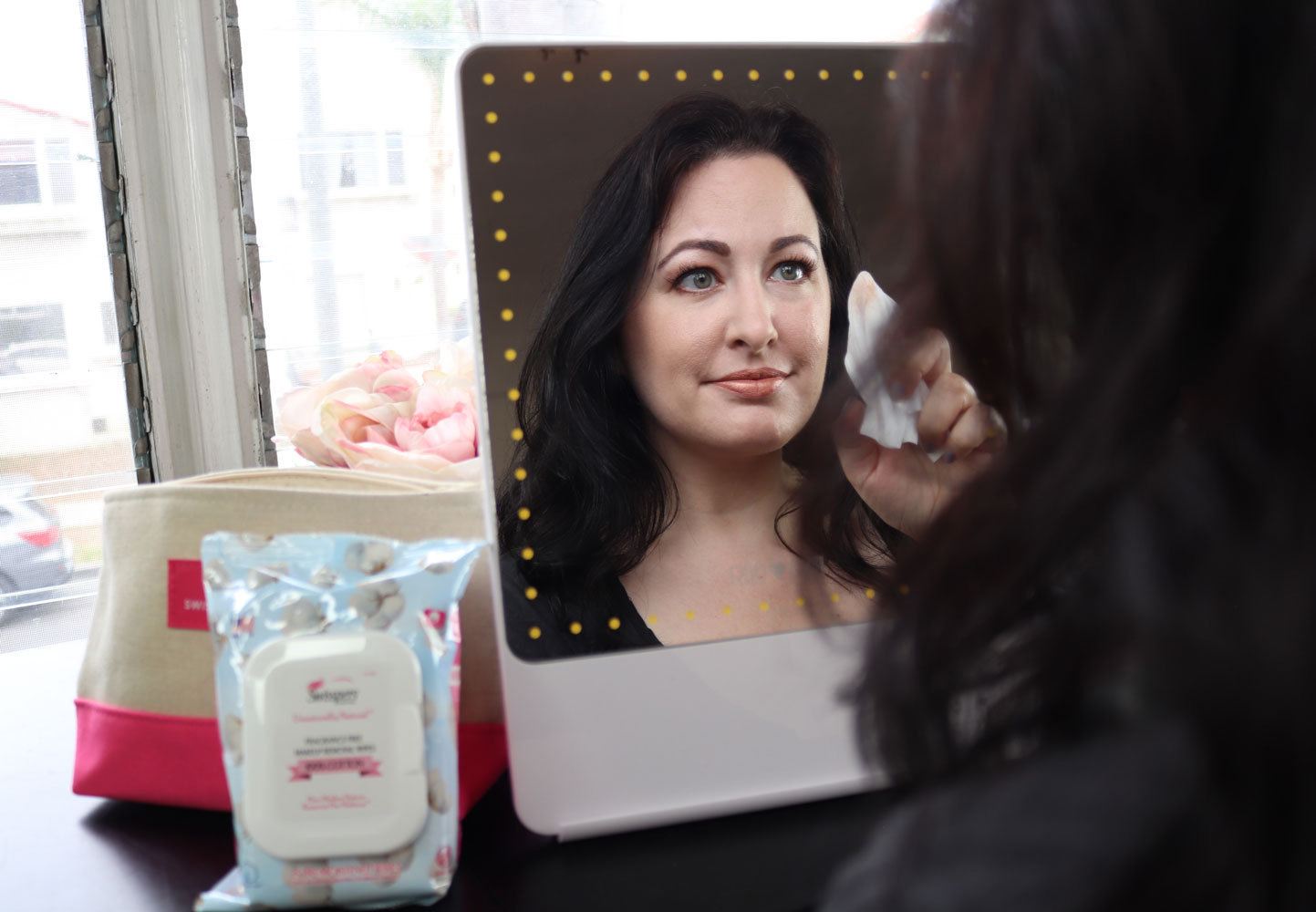 100% Cotton Makeup Remover Wipes: I can't stand makeup wipes with artificial fragrances and unnecessary additives. Swisspers Makeup Removal Wipes are pH balanced, contain no harsh chemical sulfates, parabens, petrolatum, dyes or phthalates, and are as gentle as water. They are made and sourced in the USA with ultra-soft 100% cotton. I use them as a first step in cleansing when I have a full face of makeup. I'll follow up with either micellar water or face cleanser, depending on what I need (or how tired I am!). I also keep these on my makeup table to remove makeup from the back of my hand (I use my hand as a palette) and to remove makeup mistakes (hey – it happens!). I also keep them in my gym bag for a quick cleaning after working out.
Made and sourced in the USA with 100% ultra-soft cotton
pH Balanced
Hypoallergenic-suitable for sensitive skin
Paraben-Free
Phthalate Free
Alcohol & Oil Free
Biodegradable
Suitable for Contact Lens Wearers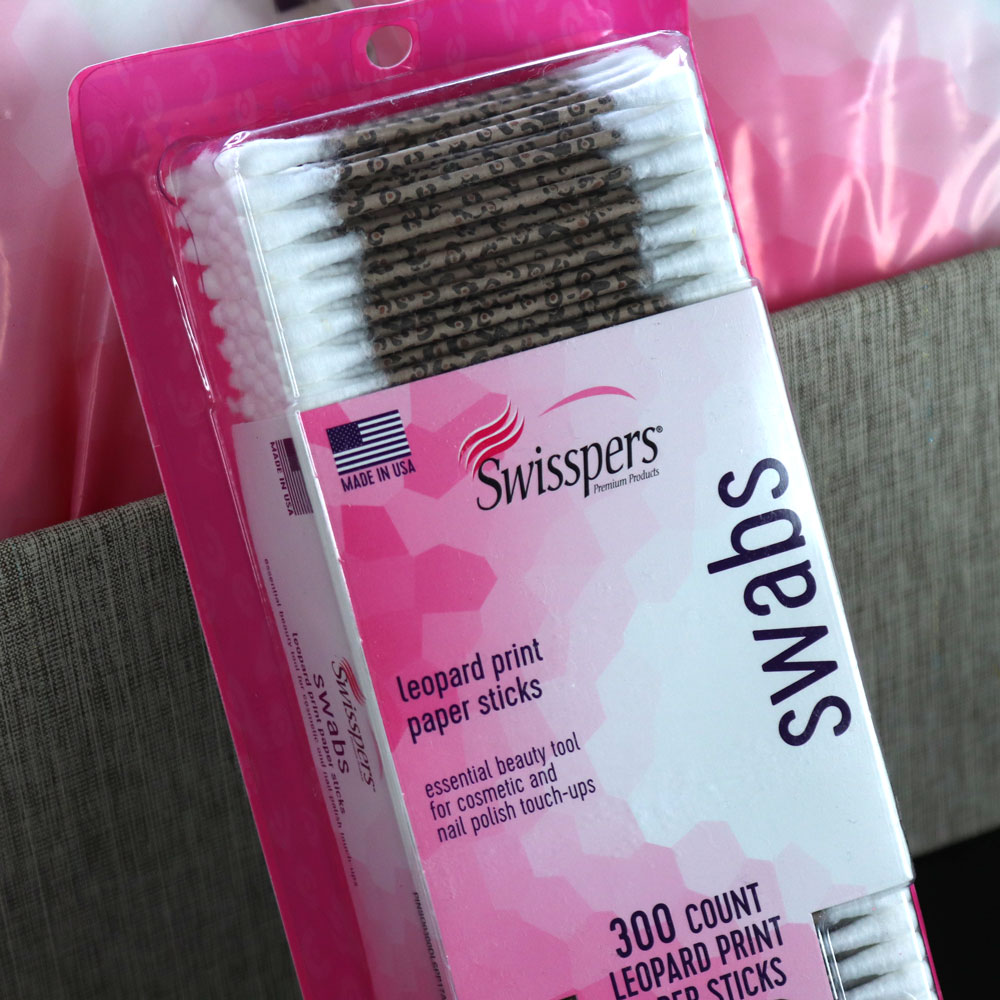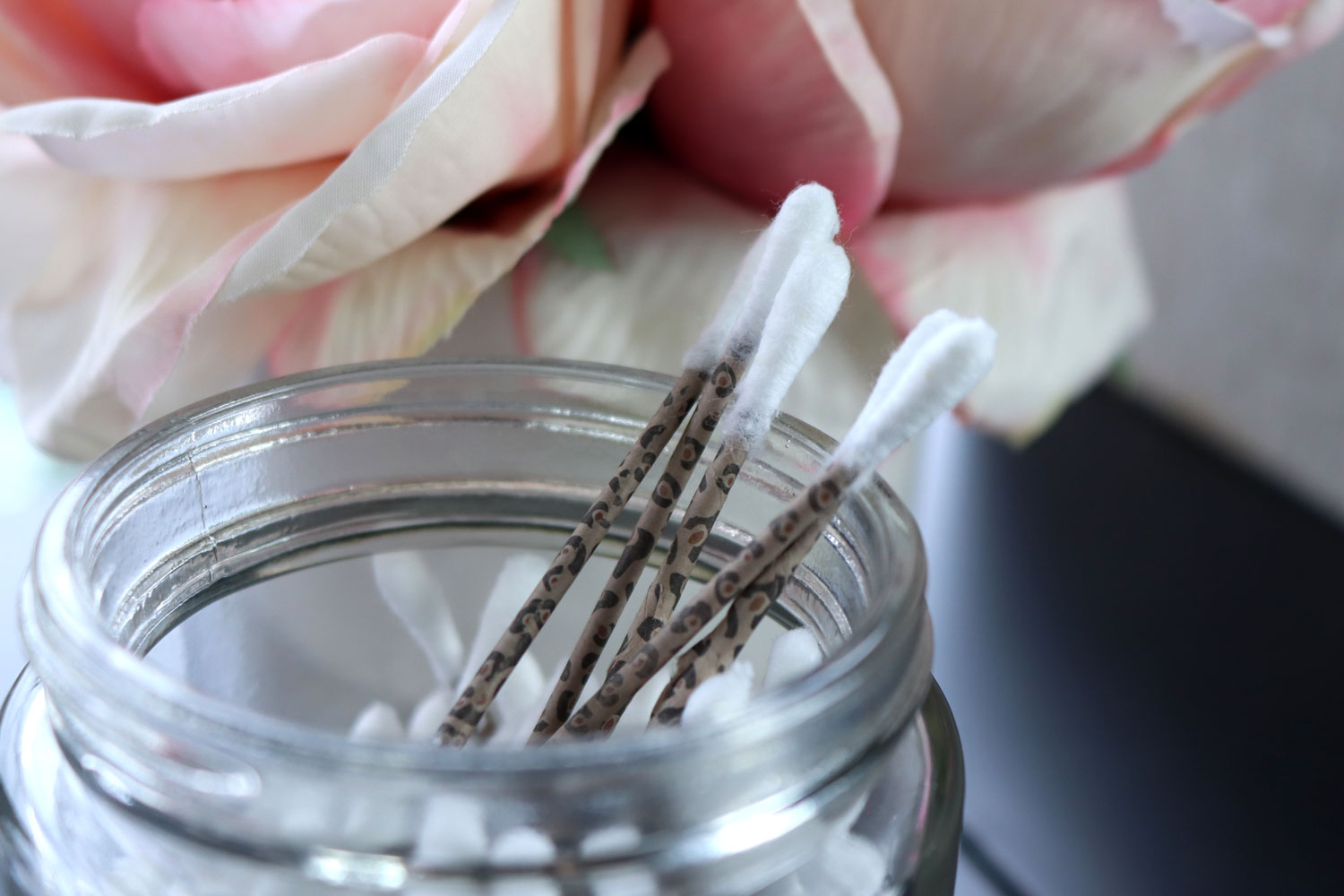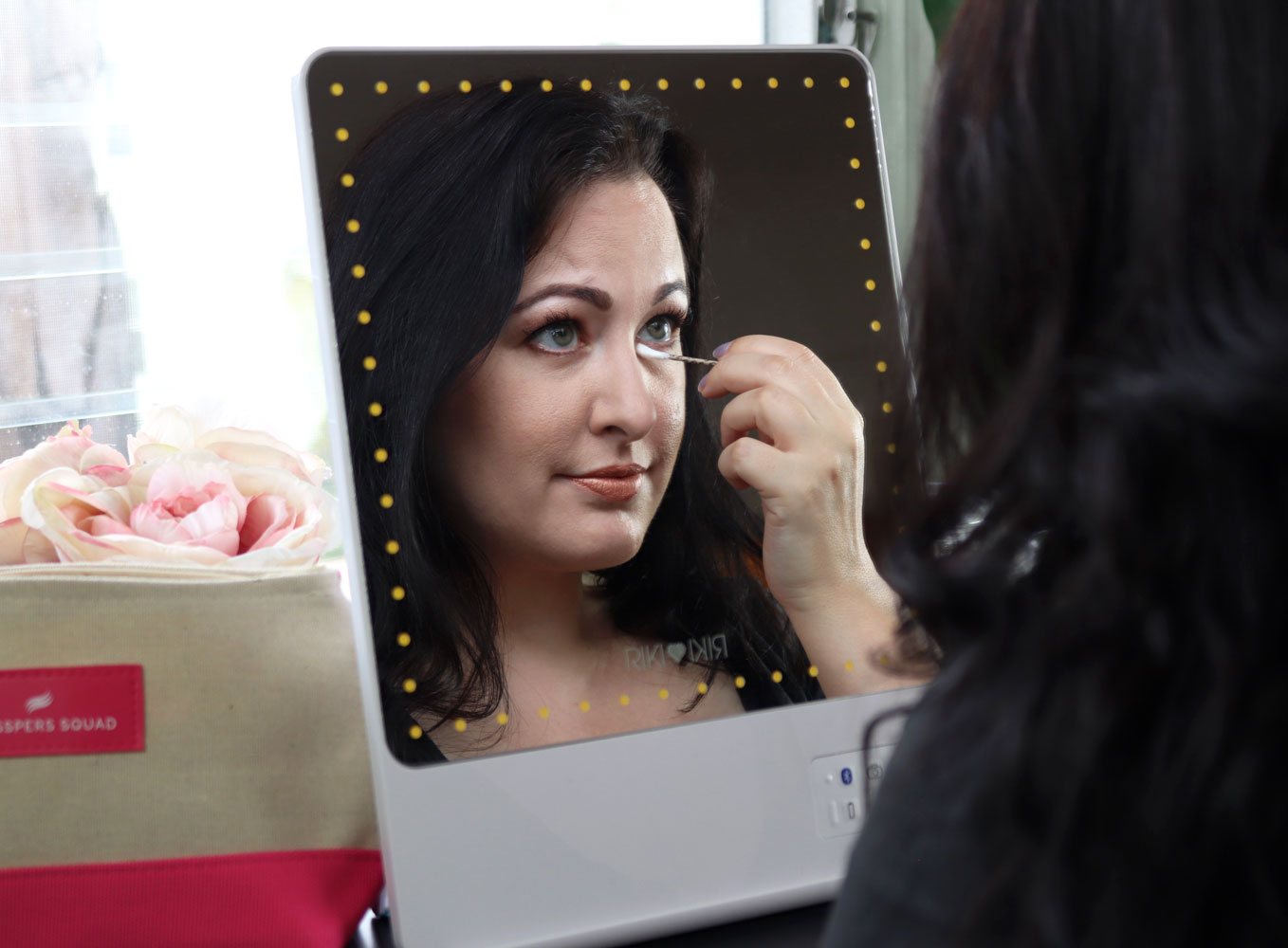 Leopard Cotton Swabs: Swisspers Cotton Swabs are just the cutest, plus they are double-tipped with 100% cotton. They're the perfect tool for applying and removing makeup (especially around the eye area). I also use them for cleaning my ears!
Double-tipped with 100% cotton
Fun leopard print
Useful for makeup mistakes and clean-up
Great for nail art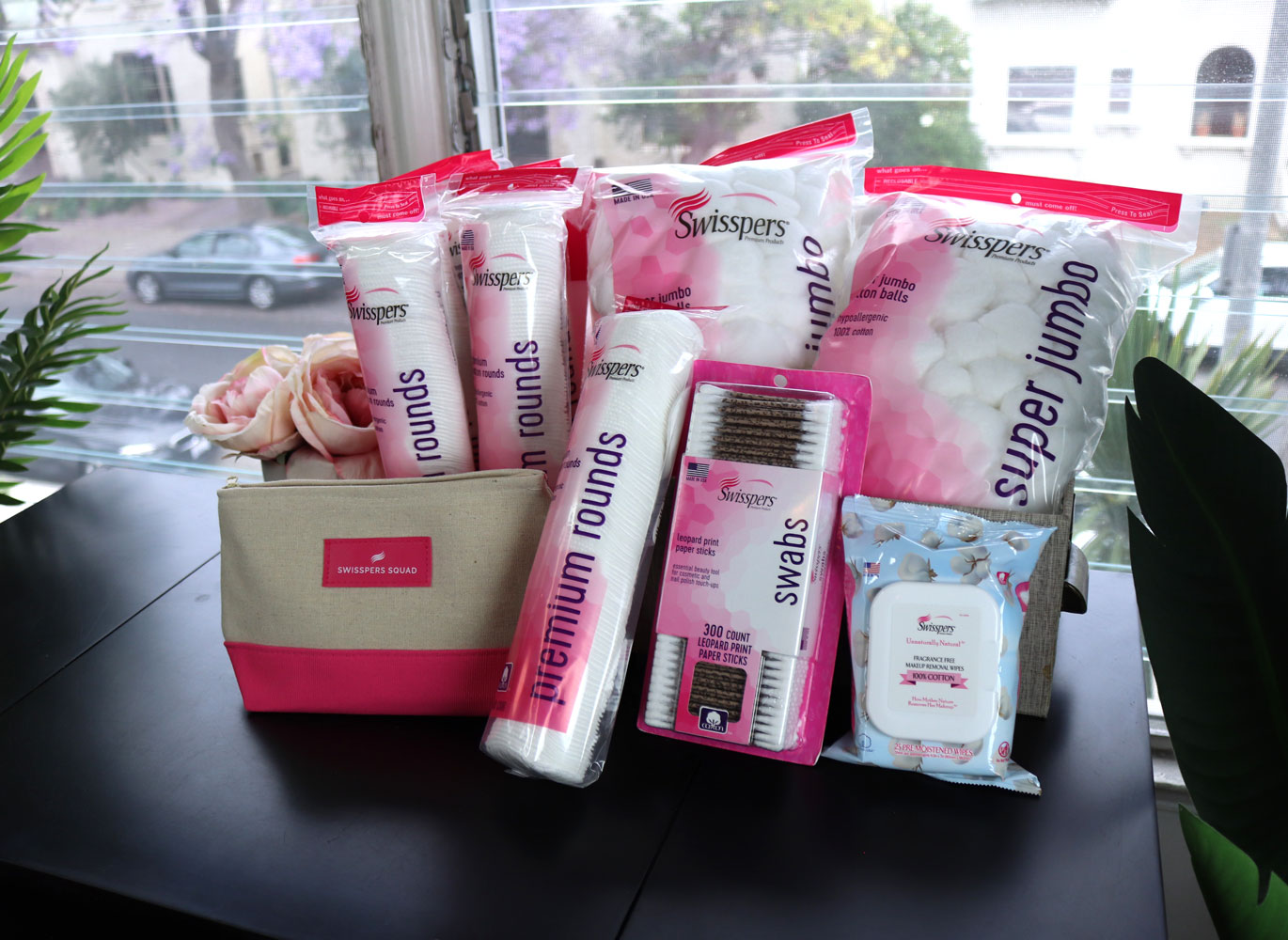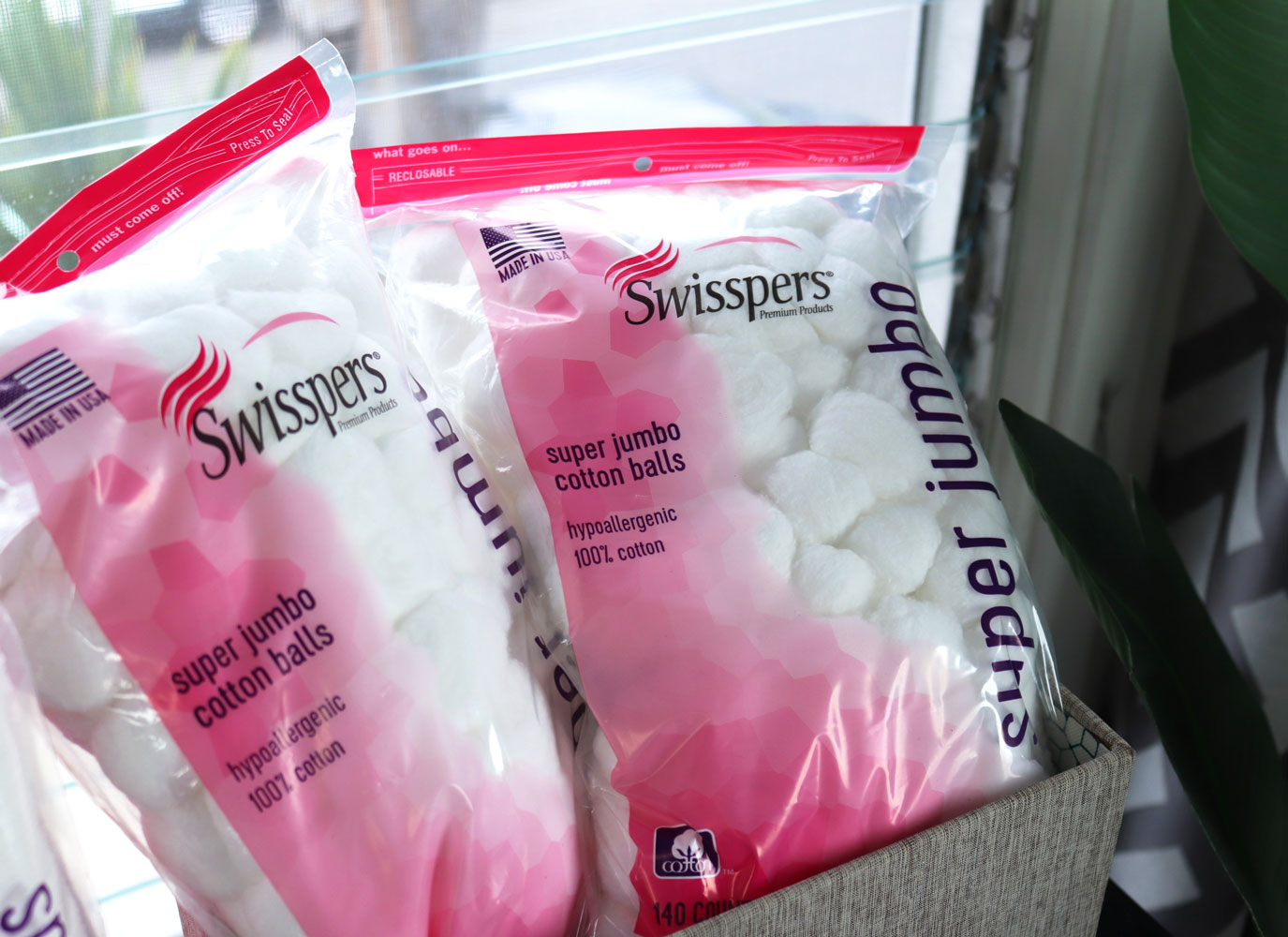 Super Jumbo Cotton Balls: Swisspers Cotton Balls are made from 100% pure cotton, making them soft and absorbent. These cotton balls are hypoallergenic, gentle and safe for all skin types. If you're not into cotton pads or rounds, these will be your jam.
100% cotton
Hypoallergenic
Extra large size for superior absorbency
Ultra plush high-quality cotton
Gentle enough for sensitive skin
Use my code 10BEAUTYBUN for 10% off cotton rounds, makeup remover wipes, leopard swabs or jumbo cotton balls. Click here to view the products on Amazon.
And now – who's ready for a GIVEAWAY? It's been a while since I've done a proper giveaway. I thought you might want to join me in the "Swisspers Squad", and try out a huge selection of their beauty products.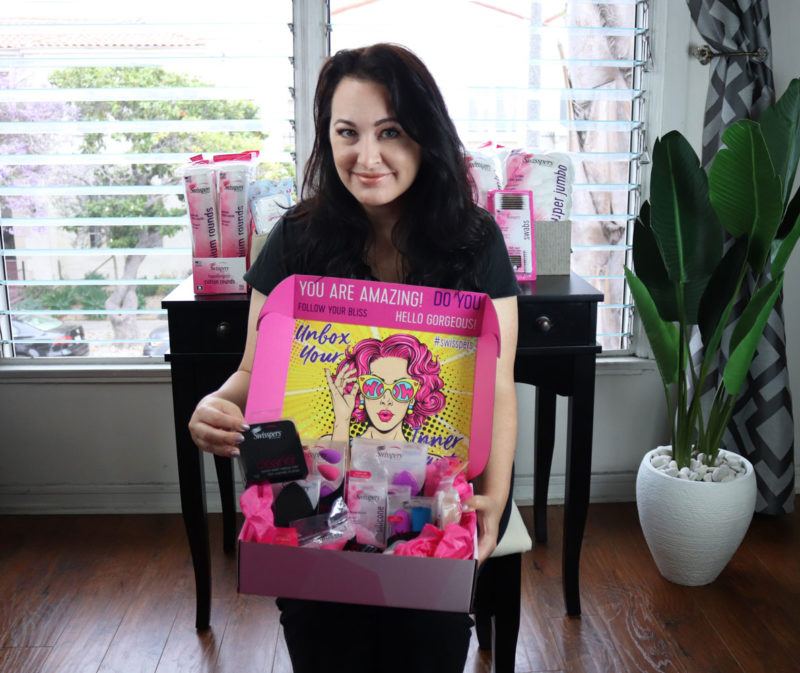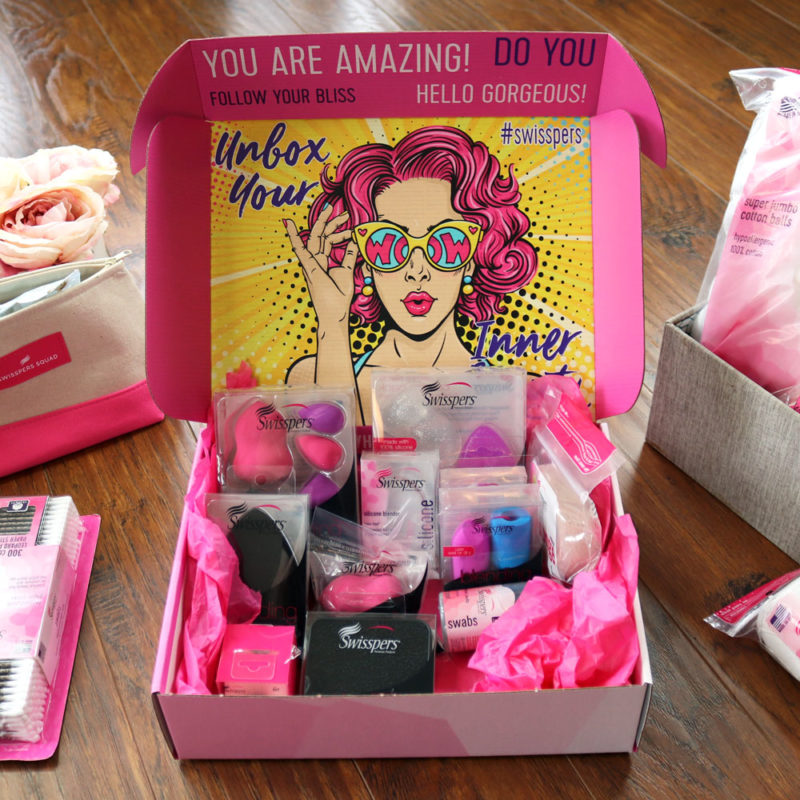 I'm giving away a Swisspers Beauty Box to one lucky reader! Winner must be at least 18 years of age and live in the US. By entering, you agree to the official rules. Ends 7/22 at 12 am PST. Winner will be contacted via email.
Swisspers Beauty Box Giveaway ($65 Value)!
1 Body Blending Sponge
1 Silicone/Sponge Hybrid Blender
1 Exfoliating Sponge
1 Dry Cosmetic Brush Cleaner
1 Large Blending Sponge (Pink)
5 ct Blending Sponge Combo Pack
50 ct Charcoal Swabs
1 Walnut Exfoliating Sponge
Silicone Blender 3 Pack
1 Powder Blending Sponge
2 ct Finger Blending Sponge
a Rafflecopter giveaway
The post Swisspers: Top Shelf Cruelty Free Cotton Products appeared first on My Beauty Bunny.